Stand Mounted Vertical Laminar Flow Benches offers highest product protection for samples and processes by providing ISO Class 5 particle free work area. Vertical Laminar Air Flow Unit draws air from top of the unit via pre-filter, through a plenum and vertically down over the work-surface and past the lap of the operator. It prevents contamination from operator and environment to work area. The laminarity of the flow prevents cross contamination between the items handled in the working space. These units are suitable for the handling of non-hazardous products, sensible to dust and/or to contamination wherever operator protection is not required.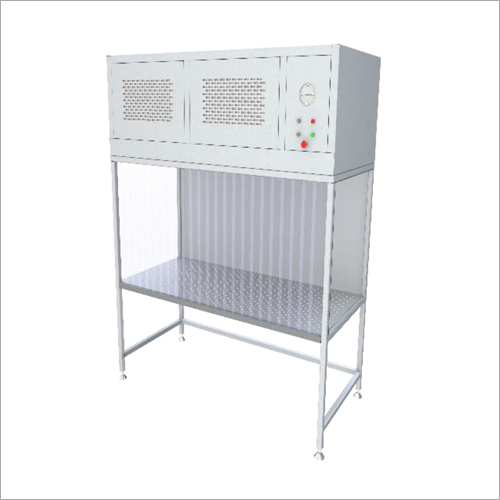 Material Of Construction :
Standard Features:
Minipleat HEPA Filter EU-14 Grade, efficiency 99.999% down to 0.3µ.
Pre filters EU 6 Grade with average efficiency of 60-80% down to 5µ.
SS 304 channels for Hepa clamps Covering.
AC Centrifugal Motor Blower with Regulator for speed controlling.
Magnehelic Differential Pressure Gauge.
Toughened Glass side View panels.
U. V. Light providing 256nm wavelength with Hour Meter.
Led Light With SS covering.
6/16 Amp single-phase switch socket for any external equipment.
SS ON/OFF switches for motor & lights
PAO Test port for HEPA filter integrity test.
Antistatic PVC Strip in Front Side of the unit.
SS 304 access panel on front & back side for service & maintenance.
SS 304 stands with Nylon Levelling pads.
Inverter with Dry battery providing #0 minutes backup.
Standard Dimensions :
Internal Dimension (mm)
Width
Depth
Height
610
610
650
915
610
650
1220
610
650
Options & Accessories :
Audio / Visual alarm for blower tripping with Fault Acknowledgement & Reset Switch.
SS 304 protective grill below Hepa Filter.
Digital/Photohelic Gauge with High / Low Indicators.
Flame Proof Execution as Explosion proof electrics for Flame-proof applications.
Performance :
Air cleanliness : ISO Class 5 (ISO 14644-1:1999 (E) / Class 100.
Air Velocities : 0.45 + 0.05 mps@ 6 Inch below Hepa Terminal.
Air Flow : Vertical
Noise Level : Less than 67 db on Scale 'A'.
Vibration level : Minimum.
Power Supply :
230 VAC 1θ, 50-60HZ & for FLP 415 VAC, 3θ, 50-60Hz.