Mobile Trolley is designed for transporting sterile products under ISO Class 5(Class 100) particle free work area. The work is continuously supplied with positive pressure HEPA filtered recirculated horizontal air flow.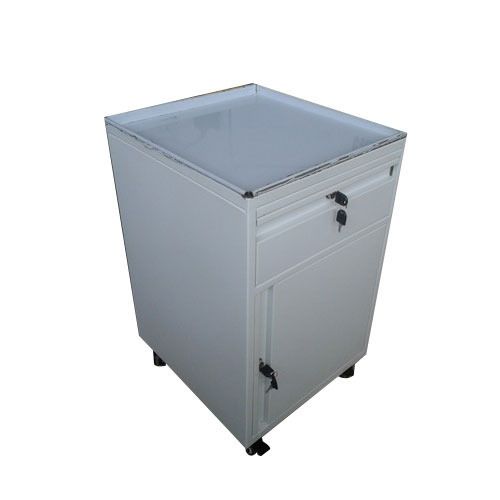 Material Of Construction :
Standard Features:
Minipleat HEPA Filter EU-14 Grade, efficiency 99.999% down to 0.3µ.
Pre filters EU 6 Grade with average efficiency of 60-80% down to 5µ.
Fresh Air Filter EU 6 Grade, with efficiency of 60-80% down to 5µ.
AC Centrifugal Motor Blower with Regulator for speed controlling.
Magnehelic Differential Pressure Gauge.
Led Light with SS Covering.
U.V Light Providing 256nm Wavelength with Hour Meter.
Electro-Magnetic interlocking Card With LED display controlling with Manual on-off switches for blower,LED & U.V Light.
SS 304 removable perforated shelves.
PAO Test port for HEPA filter integrity test.
PU caster wheels for movement:2 lockable & 2 Regular.
SS 304 access panel on front & back side for service & maintenance.
Inverter with dry battery providing 30 minutes backup.
SS 304 double walled insulated doors with toughened glass with SS 304 Handles & Hinges.
SS 304 Ball Catcher to hold the door in power failure condition.
6/16 Amp Single-phase Switch Socket for any external equipment.
Standard Dimensions :
Internal Dimension (mm)
Width
Depth
Height
600
500
700
900
500
700
Options & Accessories :
Audio/visual alarm for blower tripping with Fault Acknowledgement & Reset Switch.
Digital/Photohelic Gauge with High / Low Indicators.
Flame Proof Execution as Explosion proof electrics for Flame-proof applications.
Performance :
Air cleanliness : ISO Class 5 (ISO 14644-1:1999 (E) / Class 100.
Air Velocities : 0.45 + 0.05 mps@ 6 Inch below Hepa Terminal.
Air Flow : Horizontal - Re-circulatory.
Noise Level : Less than 67 db on Scale 'A'.
Vibration level : Minimum.
Power Supply :
230 VAC 1θ, 50-60HZ & for FLP 415 VAC, 3θ, 50-60Hz.